8th Slovenian IPv6 summit and the SINOG (Slovenian network operators group) initiative
Monday, 28. 10. 2013 11:25
The eighth Slovenian IPv6 summit was held on Tuesday 22 October 2013 in the Brdo Technology Park, Ljubljana, attracting over 100 experts from the wider communications network sector. Summit organisers the Go6 Institute, working with ARNES and LTFE, once again invited numerous foreign and Slovenian speakers. The theme of the summit – "I survived without IPv4" – coincides with the position of the European regional registrar RIPE NCC. Like other registrars around the world, it can no longer guarantee new applicants – operators and organisations – sufficient IPv4 address space for the normal setup and operation of networks, let along further network development and growth.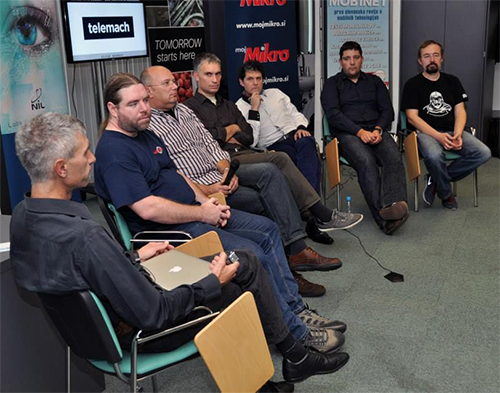 IPv6 summits cover a relatively narrow theme, but the range of participants is continually expanding, as this type of event is a reliable source of useful information and an effective opportunity to exchange experience and best practice. And it is precisely such successful cooperation among various actors, such as operators, service and content providers, the academic sector, manufacturers and other interested parties, that lies behind the Go6 Institute launching an initiative to establish a Slovenian Network Operators Group (SINOG). As a result, the IPv6 summit ended with a round table discussion – with guests representing operators, the grid network, ISOC and SI-CERT – on opportunities for cooperation. Panel chair Urban Kunc described the purpose of the SINOG group as "proactive exchange of knowledge, good ideas, information and best practice". SINOG should be open to all individuals with a professional interest in the operation, engineering or development of communications networks who are also prepared to actively cooperate and share their experience with the internet community. Similar groups have operated in other countries for a number of years (NANOG, PLNOG, UKNOF …).
Participants in the round table and those in the room were agreed that such cooperation could play a significant role in resolving network problems. The group should not just involve operators – if it did, discussion would be limited to network architecture, development, monitoring and administration – but should extend to the wider area of security, DNS services and the like. For the purposes of establishing SINOG, the Go6 Institute has provided an email list and a website,www.sinog.si, in the initial phase intended for the exchange of views of all those involved in setting up formal frameworks for the operation of SINOG. If you are willing to play an active role in setting up and running SINOG, we warmly welcome your cooperation.