The 2014 ARNES Conference – An Exchange of Knowledge and Ideas
Monday, 26. 5. 2014 9:02
New ways of teaching proposed by the European Commission through the Opening Up Education initiative are introducing numerous new approaches, both from the perspective of using technology in education and to the concept of teaching itself. The main goal of this initiative is to provide learning environments and content that will be available to all. At this year's ARNES Conference, which took place in Kranjska Gora on 28 May 2014, we have thus focused on solutions that facilitate the open exchange of knowledge.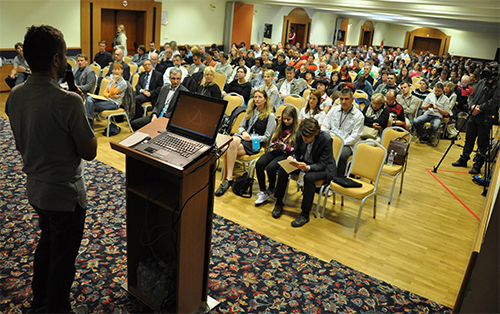 The event was an opportunity to host talks from experts in various fields closely related to the educational process. At the keynote, we introduced a Norwegian pilot model for secure e-testing of knowledge which has seen the participation of all Norwegian universities. Special attention was also given to e-education at Slovenian universities.
In line with these trends, the conference continued with a presentation on Massive Open Online Courses (MOOCs), which have been bringing education to all that desire it, both in Europe and beyond. We had the honour of hosting a representative of one of the leading European higher education environments, iversiti.org, who explained the MOOC platform of Europe's largest provider of free massive online education from a technical perspective. We also had the opportunity to see how these kinds of courses work in Croatia and what is being done in this field in Slovenia.
The next sessions delved into the current challenges of the entire education and research vertical in Slovenia. We introduced various solutions which can assist the user in everyday tasks and some content for the technically most demanding attendees – people who view advanced information and communications technology as a personal challenge.
This year's ARNES Conference, which was once again successfully held within the framework of the SIRikt international multiconference, is over, but new challenges and new ideas already await at the autumn Network of Knowledge Conference.