Slovenia scores in the IPv6 RIPEness
Tuesday, 18. 5. 2010 13:27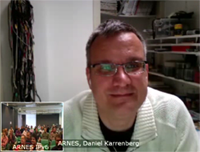 "Slovenia is currently in the lead in terms of IPv6 RIPEness," Daniel Karrenberg, one of the legendary builders of Internet in Europe, pointed out  during hiskeynote at the 3rd Slovenian IPv6 Summit last Thursday. "It's your competitive advantage.", he added.
The 3rd and the largest Slovenian IPv6 Summit, co-organized by ARNES, attracted over a hundred participants from industry, administration and regulators, an encouraging number considering the specific and rather technical nature of the meeting. ARNES provided the venue, connectivity, eduroam and videoconferencing services (both H.323 and webconferencing).
One of the highlights of the meeting was the keynote by Daniel Karrenberg, chief scientist at RIPE NCC. He presented RIPE measurements of what they call "IPv6 ripeness", showing a dynamic activity in the IPv6 usage and implementation in Slovenia.

The credits for this exposed role of Slovenia in the process of IPv6 deployment can be attributed to the vibrant community gathered around go6 initiative. where ARNES acts as an important strategic partner.  The first day of the 3rd Slovenian IPv6 Summit offered a full-day workshop, led by experts from ARNES and University of Ljubljana.
Karrenberg warned that the delay of the implantation of IPv6 is obstructing further growth of the Internet and innovative solutions. He believes that the active commitment of the go6 community in Slovenia encourages the use of the new internet protocol, thus providing Slovenia with an important competitive advantage in the area of informational technology.
The recordings from the Third Slovenian IPv6 Summit including Daniel Karrenberg's lecture and workshops are available at the ARNES' server.