Slovenia confirms its leading role in IPv6
Tuesday, 23. 10. 2012 11:39
Leading world experts in computer networking came together on 18 and 19 October 2012 at the 7th Slovenian IPv6 summit and the ISOC ION meeting in Slovenia. The event was opened by Robert Hinden, the designer and maker of the first Internet router in 1976, who in 1995 co-designed and standardised the IPv6 protocol. The remainder of the meeting saw speakers from organisations such as Google and Yahoo!, internet service providers such as Time Warner Cable, which connects more than 10 million households to the web, and leading equipment manufacturers, such as Cisco and others.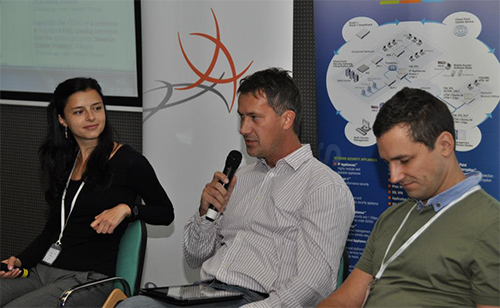 The meetings, organised in conjunction with the Internet Society by the Go6 Institute, ARNES and the Laboratory for Telecommunications at the Faculty of Electrical Engineering (LTFE), drew many professionals in part because, by many indicators, Slovenia is a world-leader in the implementation of the new IPv6 protocol. Timely implementation of the protocol is a precondition for further growth of the Internet. Further weight was provided by several renowned speakers, including Ron Broersma, responsible for implementing IPv6 in the US Navy.
Slovenian experts also played important roles at both meetings, including representatives from the Delo newspaper, Telekom Slovenije, NIL, the Go6 Institute and ARNES. Further proof that even a small country like Slovenia can play a very important role in a particular area.
You can watch recordings of talks on the ARNES video portal, and pictures from the meetings are available on the ARNES Facebook page.