Slovenia – a country that's got it's IPv6 act together
Monday, 3. 1. 2011 13:20
"Slovenia – a country that's got it's IPv6 act together" was one of the statements made by the legendary Martin J. Levy on IPv6-day of the Future Internet conference, which was held on 14 December 2010 in Ghent, Belgium.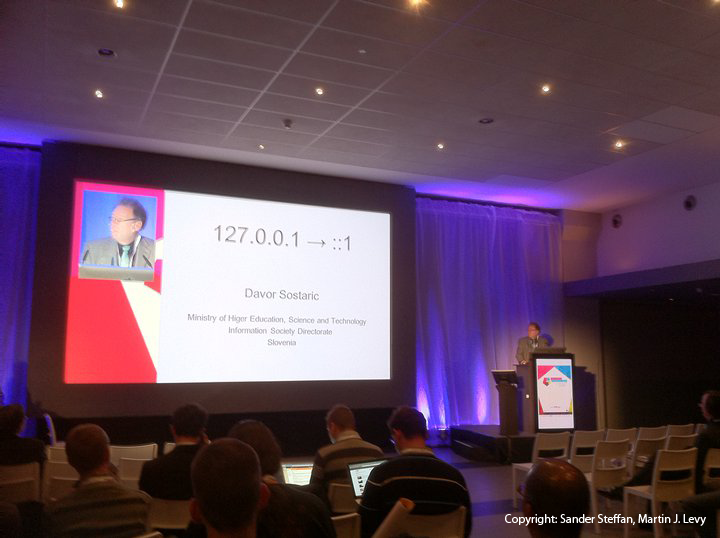 Slovenia was represented among the invited speakers by Davor Šoštarič of the Ministry of Higher Education, Science and Technology and Urban Kunc of the Post and Electronic Communications Agency of the Republic of Slovenia. At presentations and round-table discussions they presented successful models of cooperation between Slovenian operators, suppliers and developers of IT services and infrastructure and the competent ministries and agencies. They also presented the Slovenian initiative for a uniform European IPv6 profile, based on the document "Requirements For IPv6 in ICT Equipment" (RIPE 501). The overall profile should include definitions of the requirements of European governments for the conformity of equipment with IPv6 and the requirements for a suitable level of knowledge and experience of systems integrators. A study entitled "IPv6 curricula", which was commissioned by the European Commission, was presented for the first time at the conference. The goal of the study was to identify the key players, sectors and processes associated with the implementation of the new protocol. The study identified the mechanisms, initiatives and due diligence that can lead to more efficient and timely implementation of these new technologies. Arnes staff member Matjaž Straus Istenič participated in the preparation of the study.
According to certain indices, Slovenia is one of the leading countries with regard to readiness for IPv6 protocol, a point which has also been made by Daniel Karrenberg of RIPE NCC. Arnes is also adapting more and more services to IPv6.