Mobile trends in education, research and culture at Arnes 2013 Conference
Wednesday, 15. 5. 2013 11:27
On 15 May 2013, the Arnes 2013 Conference in Kranjska Gora attracted a record number of ICT professionals in education, research and culture. The theme of this year's conference was user mobility, and delegates had the opportunity to hear distinguished foreign and Slovenian speakers (video recordings).

The importance of mobile applications was also recognised by invited speakerDomenico Vicinanza, DANTE, a doctor of physics and composer known internationally for setting the Higgs Boson to music: "Tablets, smartphones and other devices are becoming increasingly popular, so the research and education sector must recognise the benefits they bring to network administration".
The Arnes 2013 Conference (conference programme), which this year had more than 400 registered delegates, brings together users from education, research and culture. It is aimed at a broad range of delegates, covering both user and systems aspects of the use of new technologies. At this year's conference, delegates learned about mobile trends and the current state of mobility in Europe and Slovenia. The number of users in faculties, schools and other organisations connecting to wireless networks using mobile devices is growing rapidly. Users have a reasonable expectation of being able to access services anywhere at any time. Delegates learned how to use mobile applications in network administration, and what the development of mobile applications means in terms of financial and human resources. We also set out the risks introduced by new connection options and the use of mobile services, and the need for appropriate protection.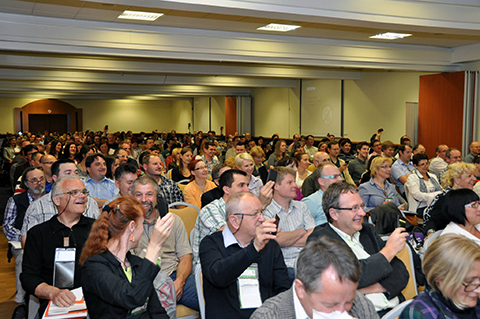 Once again, all conference events were supported by modern technology. All conference talks were streamed live on the web, while contents were jointly created on Facebook and Twitter. It is also worth mentioning that this is still one of the few conferences in Slovenia – and indeed the world – where delegates and speakers can access the web using the new IPv6 protocol.