ARNES 25 years' anniversary: We created an internet of people
Monday, 10. 7. 2017 12:07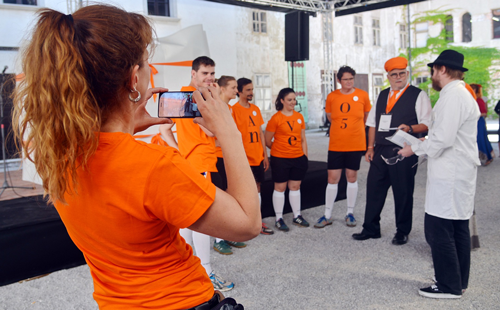 ARNES celebrated its 25th anniversary. Director Marko Bonač explained that it is impossible to predict what type of technologies and services we will offer in the future, but we do know that: "We will always respond to the wishes and needs of our users."
The participants of the event were addressed by the Minister of Education, Science and Sport Maja Makovec Brenčič, who highlighted a series of important projects focusing on e-learning and e-knowledge. The Minister of Public Administration Boris Koprivnikar added that the society of the future will be digital, the major foundations for which will also be contributed by ARNES. Dorte Olesen, a member of the Board of Directors of GÉANT, who was a special guest at the event added: "Congratulations to all of you at ARNES for your splendid achievements and the positive difference you make to education and research in Slovenia and all over Europe."
The pioneer of the Slovenian Internet
During its 25 years of operation ARNES, which was established by the Slovenian government in May 1992, has made a significant contribution to the digitalisation of Slovenian society. Today, the Academic and Research Network of Slovenia connects over 1,400 research, educational and cultural organisations and roughly 250,000 users through its reliable and high capacity infrastructure.
Drawing on past experience for a digital future
In the past ARNES was best known to the general public for its email addresses @guest.arnes.si and access to the Internet via a dial-up connection. Today it offers cutting-edge network services, supercomputer infrastructure, cloud computing, multimedia services, various online applications and a connection to the pan-European GÉANT network. ARNES will continue to strive to provide services that accelerate the development of Slovenia's digital society.
Responsibility for the operation and security of the Slovenian Internet
The registry Register.si and SI-CERT operate within the scope of ARNES. The Register.si manages the .si domain and is therefore responsible for the operation of the Slovenian Internet. The .si domain also celebrated its quarter century in April this year, with almost 124,000 domains already registered today. SI-CERT is the main contact point for reporting network security incidents involving systems and networks located in Slovenia; owing to the increasing prevalence of cyber-attacks, its role is becoming increasingly important.
Keeping up with technological development
"ARNES helped Slovenia join the group of countries that developed and expanded Internet connections for academic and educational purposes very early on, which later spread to business, public administration, media, etc. ARNES has always kept up with technological development. It also holds a pivotal role in providing for cybersecurity", were the words serving as justification for ARNES receiving the Order of Merit for its services, which was presented to Director Marko Bonač in 2014 by Slovenia's President Borut Pahor.
Connecting knowledge
ARNES also received the honourable Valvasor Award on 15 May for setting up optical connections for museums and galleries as part of its IR optics project, which provided 754 educational, science and cultural institutions with high-performance optical connections.

This year ARNES will commence with the implementation of its SIO-2020 programme, which will involve setting up wireless networks and purchasing new ICT equipment at almost 950 educational institutes and developing new advanced e-services and e-content.
25 years of building a network of people
ARNES has been primarily building an Internet of People and not an Internet of Things for over 25 years now, putting great emphasis on sharing its knowledge of ICTs. Technology makes it increasingly easier to work with each other, but also comes with certain risks. ARNES plays a major role in raising public awareness about modern technologies.
ARNES therefore not only encourages the use of technology but also warns of abuse, helps to prevent incidents and educates users on how to make best use of technological features and use them safely.